Sailing the Hebridean Islands of Scotland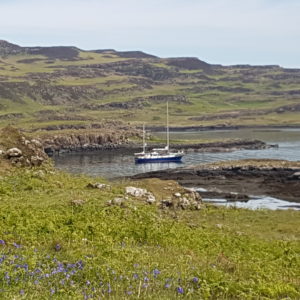 In Waters of Salvation, Mike takes a sabbatical as he tries to control his PTSD. He embarks on a solo voyage with his yacht to the Western Isles of Scotland.
This piece of writing comes from my life experience as a sailor. Few sailing grounds in the world rank as high as this area for scenery, and for challenging and rewarding sailing.
It is my joy to sail my yacht in these waters, usually twice a year.
You can be sure the

descriptions in the book are written with authenticity!
Here is the link to my old blog where there is a write-up of one of my voyages in 2014. Vivid descriptions, photographs, and some of my poetry too! I hope you enjoy reading it.
Please follow and like us: