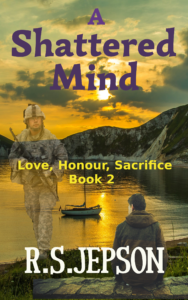 Available from
A Shattered Mind
War – The body is not the only victim.
In the arid wilderness of Afghanistan, Mike MacDonald, a Senior NCO in the British Army, fights what is to be his last battle before retirement. At least he thinks it is.
No stranger to the horrors of war, in the final confrontation he is injured and witnesses an incident which changes his life. Horrors from the past flood from his memory.
With everything to look forward to, a beautiful wife, wonderful children, and a lovely home, the physical wounds heal quickly, but the mental trauma begins to tear him apart.
He returns home to Glasgow and receives counselling for Post Traumatic Distress Disorder. But with constant flashbacks and nightmares his life begins to deteriorate. Alcohol becomes a crutch.
In a desperate attempt to find himself and regain control of his emotions he embarks on a solo yacht to cruise the Western Isles. At a remote hotel he is plunged into a world which leads him into further inner conflict. Mike is tormented with questions about his actions and motives.
A young autistic girl begins to lead Mike on the long journey out of his nightmare.
Holdng this glimmer of hope, he is unwittingly embroiled in a plot to steal an ancient Scottish relic which threatens his recovery but leads to a revelation.
Can he pull back from the edge of the abyss before he loses everything dear to him?
An emotional roller-coaster ride of action, adventure, romance, and intrigue.
Coming soon
The Sequel – The Scars of Conflict